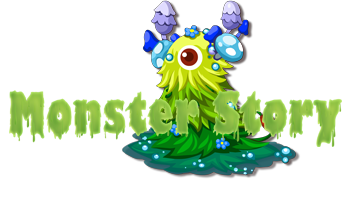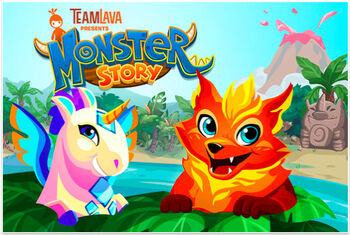 Monster Story is a mobile application developed by TeamLava for the iOS and Android devices. It may be downloaded for free from the Apple App Store and played on the iPod Touch, iPhone, and iPad or the Google Play store and various Android devices.

This wiki is in progress!


What do you think the next monster will be? Does it live in the Hot Red Den, does it fly like the Dream Bird or is it really rare like the Diamond Pegasus? See Monster Ideas if you want to post an idea for us.
Bulletin Board
August 16, 2013
Sadly, TeamLava has decided to abandon development on Monster Story.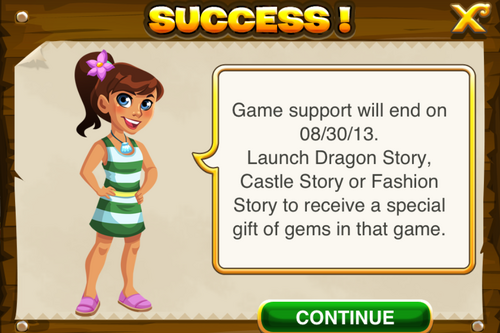 Quick Links

Neighbors - Use this page to find Storm8 IDs.

Eggs - This page is to identify eggs.

Breeding Calculator - Use this program to explore different breeding possibilities or results.


*** For more link options, use the navigation toolbars at the top of the page! ***
Administration
The current administrators of the Monster Story Wiki are as follows:

PunRock123, Knj00, Tikatoy and Sylvandyr.
If you have any questions or concerns please visit an administrator's profile page.
Featured Article
"

"In the wild, you'll find Pearl Platypus eggs inside giant clams on the ocean floor of the continental shelf. To the dismay of pearl divers, these eggs look very much like giant pearls. Too often, pearl divers open a giant clam hoping for a big score, only to get a pearl beak clamped around their hand."

"

 

— Description 
Game Updates
March 28, 2013
   The Pearl Platypus
has been released.
March 14, 2013
   The Frogalog

has been released.
February 28, 2013
   The Chipmoss

has been released.
February 14, 2013
   The Magmadillo

has been released.
Chat Moderators
The current chat moderators of Monster Story Wiki are as follows: